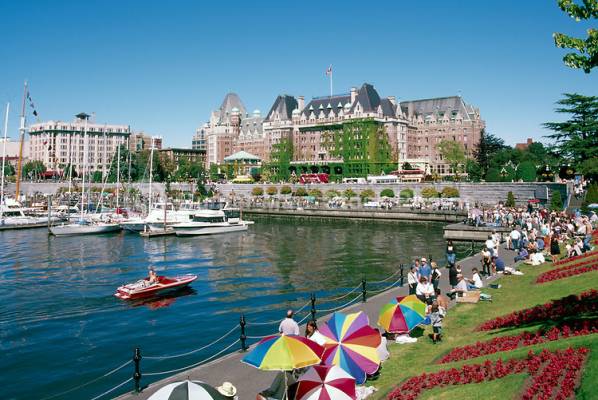 The Exploration of Victoria B.C., the historic and scenic capital city of British Columbia, is an adventure that can take the intrepid traveler many years to complete in full. With a little knowledge and preplanning, however, Victoria's most well-known and treasured attractions can be experienced in a relatively a short amount of time owing to the centralized structure of the city. Listed below are my top ten must see attractions of Victoria B.C.
if you can't see everything the city has to offer, make sure you do not miss these:

1. Victoria Inner Harbour

If you have come to Victoria via the Clipper, or the cruise ships, or even by road or air, Victoria harbor should be your first stop for exploration and good food. In the spring and summer season the harbor walkway is home to all manner of craftsmen and women, artisans, and musicians, turning the scenic walk around Victoria's beautiful waterways into a cultural melting pot that should not be missed.

Whether sitting on the sunny sea-side patio of Milestone's restaurant and enjoying a drink, eating the famous fish and chips from Red-Fish-Blue-Fish, or boarding a vessel to go on an exciting whale watching adventure tour, it can all be found at Victoria Harbour. Sit and listen to live music from one of the harbours musicians, or buy a one of a kind souvenir to take with you when you go, but visit Victoria Harbour, my number one choice for Victoria Downtown Attractions.

2. Parliament Buildings


Just up from the Victoria Harbour, and very hard to miss, are the magnificent British Columbia Parliamentary Buildings, home to the legislative assembly of British Columbia. Construction began on this magnificent stone building in 1893 and it has been home to the legislative assembly since its completion in 1898. You will be hard pressed to find a more impressive building this side of the Rocky Mountains, or even between Victoria and Ontario.

The main style of the building combines Baroque details with Romanesque revival rustication; the use of roughhewn stones in concert with smooth.

The buildings lush grass lawns possessed of a many interesting statues provide a great place to soak up the sun on a beautiful day and one must circle the entire building in order to find all of its interesting features.

As the sun goes down over Victoria city, the building becomes illuminated by thousands of white Christmas lights, creating a stunning effect during a harbour viewed sunset.


3. Royal B.C. Museum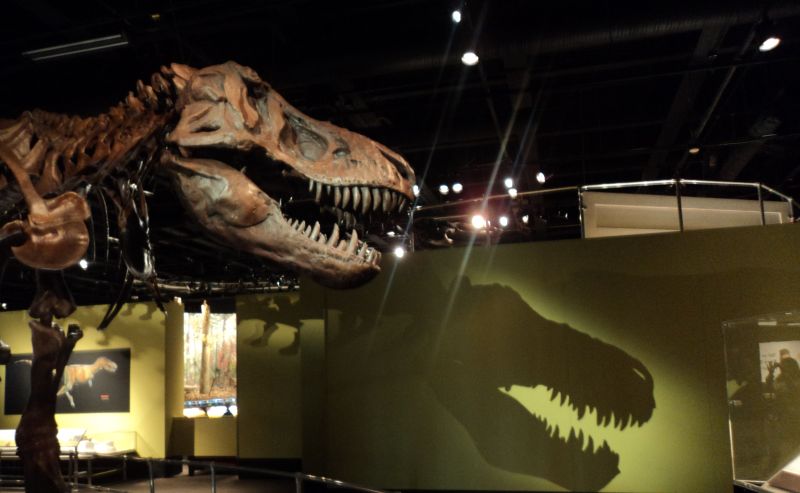 Between the Parliamentary buildings and the historic Empress Hotel, can be found the Royal B.C. Museum, a world class, must see feature of beautiful Victoria B.C. Founded in 1886 the historic building his home to British Columbia's vibrant natural and human history museum as well as the provincial archives. The museum is home to three permanent and very interesting galleries: The Modern History Gallery, Natural History Gallery and Local First Nations History Gallery. It is an adventurous place full of totem poles and intrigue, and the life sized natural history dioramas of animals in their natural habitat is worth the price of admission alone, as it transports you back in time or into the deep wilds of Canada's rugged wilderness.

The Museum is host to many travelling exhibitions, the most recent of which being, "Dinosaurs: Ancient fossils, new discoveries." And the current exhibition of, "Vikings: Lives beyond the Legends." Scheduled to be in residence from May 16th to November 11th. 2014. The Museum is also home to the famous IMAX Theaters, making it, perhaps, the entertainment capital of the capital city.

4. Beacon Hill Park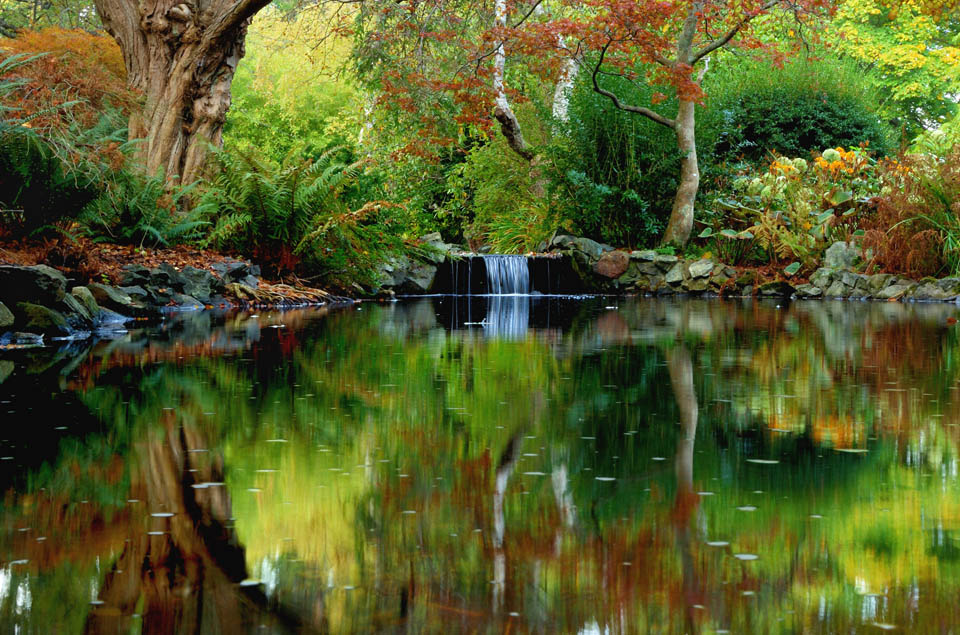 A short walk, horse drawn carriage, pedicab, or taxi ride will get you to the world famous Beacon Hill Park, the capital park of Victoria City. Nestled in the bluffs on the Juan De Fuca Straight, in lush Gary Oak and Sequoya rich forests and grassy fields, Beacon Hill park is two hundred acres of adventure, exploration and enjoyment. From Good Acre Lake and its iconic stone bridge, one may look out over the park and enjoy watching the many species of ducks, geese, herons, turtles and more creatures, including the very friendly Peacocks, that like to call the park home as they go about their daily routines.

The park is also home to a famous petting zoo for children and adult children alike, where in one may pet and butt heads with baby and adult goats, pat dusty donkeys, feel snubbed by haughty lamas, and be asked for food by charming pigs, and much, much more.

The park is a stunning combination of west coast forest and ocean views from its lookout point, and is home to a great number of features, such as the world's tallest totem pole, playgrounds, playing fields, a putting green, tennis courts, lawn bowling grounds, children's parks, and all the beautiful forest and ocean front hiking trails and expertly landscaped features you could ask for. At the far Western corner of the park by the Terry Fox memorial statue is found Mile Zero to the TransCanada Highway, and a short walk to the East takes you to Cook street village where many great dining options await.

5. The Art Gallery of Greater Victoria

Getting a little further from the downtown core, we travel up Fort Street to find the Art Gallery of Greater Victoria, a cultural landmark that is a must see. Opened in 1951, the art gallery is housed in an historic 19th century mansion designed by William Ridgeway Wilson in 1889 known as the Spencer Mansion. The Gallery is home to many works by the famed, resident artist Emily Carr, and with 18,000 works of art, the gallery possesses the largest public collection in British Columbia as well as one of Canada's most comprehensive collections of Asian art. The grounds are also home to the only authentic Shinto Shrine in North America. With so many works of art on constant rotations, and new pieces to be seen all the time, The Art Gallery of Greater Victoria is a treasure to be enjoyed as frequently as one can over a lifetime.

6. Craigdarroch Castle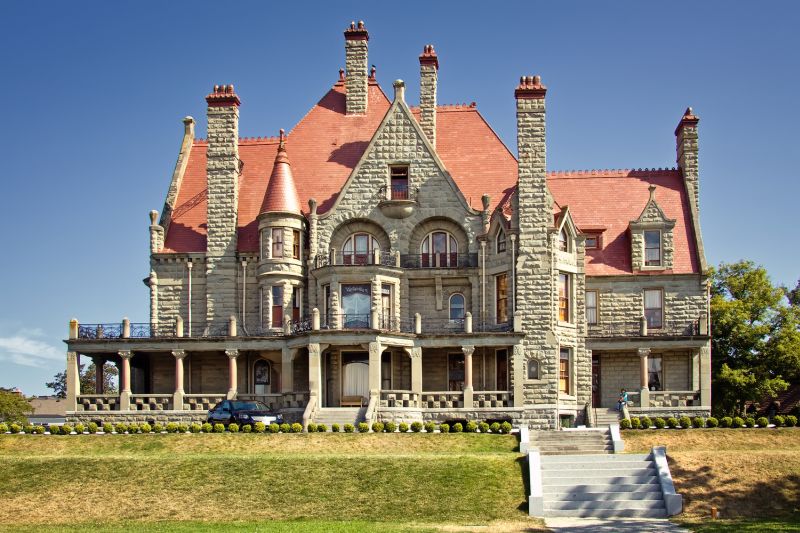 A block away from The Art Gallery of Greater Victoria, off of Joan Crescent, is the famed Craigdarroch Castle. This Victorian era Scottish Baronial mansion is possessed of 39 rooms and boasts and impressive 25,000 square feet of floor space, it is designated a National Historic Site of Canada, and no trip to Victoria is complete without a tour of its stunning architecture and interior design. Constructed in the late 1800s as the family residence for the wealthy coal baron Robert Dunsmuir, who died before constriction was complete, this castle was built with a stunning show of wealth. Granite from B.C., tile from San Francisco, and stunning oak staircase Chicago, are just some of the features that pushed the price of its construction to an estimated half a million dollars, a lot of money by today's standards, but even more in 1890.

7. The Government House of British Columbia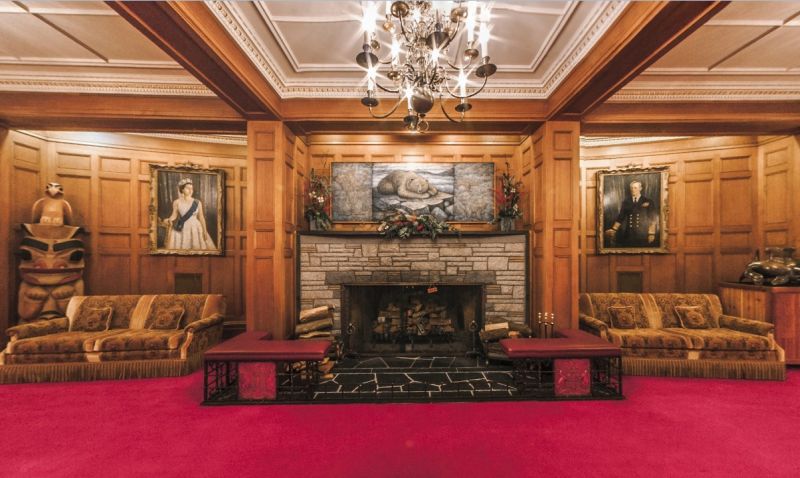 A short distance away, off of Rockland Avenue, can be found another National Historic Site of Canada: The Government House of British Columbia. Nestled in the trees behind a formidable granite and cast iron wall, passed an ornate iron gate, The Government House it is possessed of stunning and panoramic ocean views as it sits within 22 Acres of lush gardens and Gary Oak forests. The impressive building is the official residence of the Lieutenant Governor of British Columbia, and is the building in which the Canadian Royal Family and most foreign dignitaries are greeted upon arrival to Victoria, and where most of them stay for the duration of their trip. The building has been called, "The Ceremonial Home of all British Columbians," and its grounds are open to the public.

8. The Butchart Gardens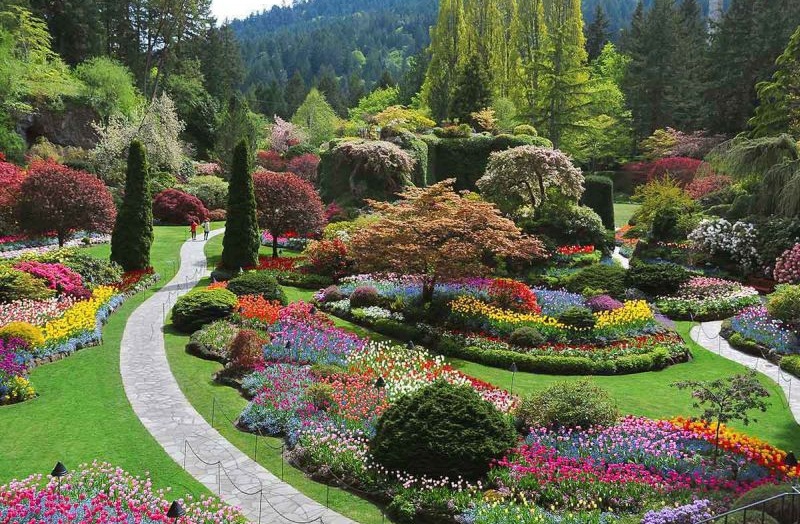 Leaving the downtown core, we drive north to Brentwood bay, to visit the iconic and world famous Butchart Gardens, an absolute must see spectacle of landscaping and historic charm.

Another of Victoria's National Historic Site of Canada locations, Butchart Garden's fifty five acres of adventures and site seeing are nestled in the trees against the shore of Brentwood bay.

Butchart Garden's consists of seven different types of garden, filled with countless species of flower, trees, and other plants, and more statues and hidden treasures than you will be able to find in one trip.

From the Sunken Garden's plethora of flowers, trees and ponds, to its cliff like look out with winding stairs that will make one think they are in a Shakespearian play, to the beautiful Rose Garden awash in perfumes, and the meditative, maze-like, Japanese Garden, and so much more, Butchart Gardens is an unending panoply of sensual delights.

The garden is also home to a wonderful and whimsical carousel that is a must see, as well as restaurants and coffee shops, and an amphitheater that provides year round musical entertainment for the guests. Fireworks shows are also quite frequent and there is no better backdrop for their enjoyment in British Columbia and possibly the world. I could write a whole book on the features of Butchart Gardens, and if you can only see one thing in Victoria, after the beautiful harbour, you must come to Butchart Gardens and let yourself become whisked away into a world of fantasy.

9. Victoria Butterfly Gardens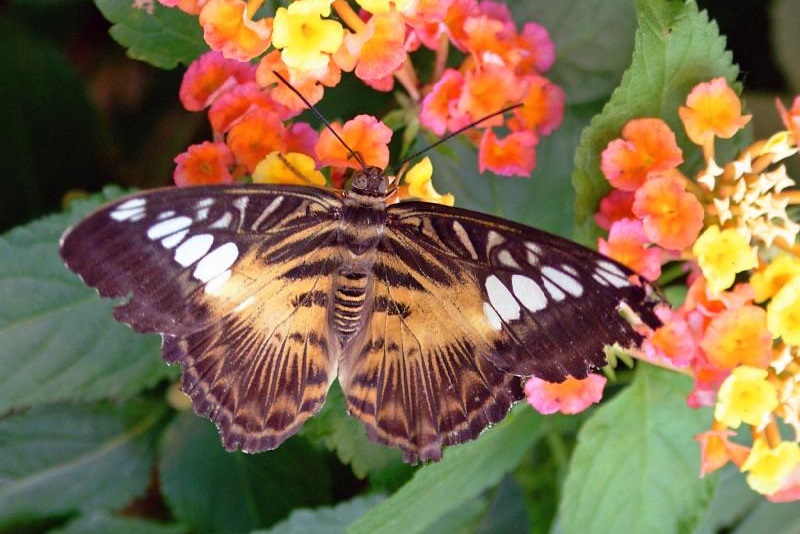 No trip to Butchart Gardens is complete without stopping at Victoria Butterfly Gardens, a mere five minute drive from Butcharts, this tropical terrarium, jungle garden is an amazing adventure for adults and children alike; especially on a cold or rainy day. Step in out of the cold, and into the climate controlled 25 degrees Celsius and 80% humidity tropical jungle. Filled with butterflies and lizards, flamingos, parrots and the exotic Ibis, tortoises and many other exotic animals and lush, vibrant jungle plants, butterfly gardens is a wonderful step away from normalcy, and a lot cheaper than an airline ticket to the tropics.

10. The Cathedrals of Victoria City

My final must see destination in Victoria B.C. is the many spectacular and historic churches and cathedrals of this great, and historic city. From the monumental Christ Church Cathedral with its storied past and many incarnations, whose spectacular architecture and absolutely beautiful interior are second to none, to the red brick, High Victorian Gothic style of Saint Andrews Cathedral with its soaring spire, vaulted ceilings and beautiful stained glass windows, to the wonderful Metropolitan Methodist Cathedral, now known as the Alix Goolden Hall and the Conservatory of Music, their beauty and magnificence should not be missed. Also, there is Saint Andrew's Presbyterian Church on the corner of Douglas and Broughton, The Belfry Theatre in Fernwood which was formally the a Baptist church built between 1887 and 1892 and a great many more North of Alix Goolden Hall on Quadra street. Victoria has a rich, long and varied history of beautiful architecture and I challenge you to get out there and explore it all, down every side road there is another old world building or church to be discovered, so put on your walking shoes, and explore the wonder that is Victoria British Columbia.
Did we miss anything? What's your top thing to do in Victoria?