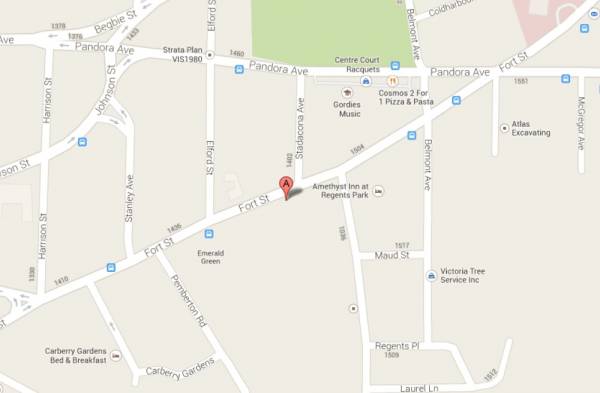 Hilltop Manor is located in Rockland, the mansion district of Victoria. This convenient location is close to shopping, public transportation and several lovely neighborhoods. Here's a list of things to do and places to go within 1km of Hilltop Manor:
Stadacona Centre
A convenient strip mall located right across the street from Hilltop Manor. Here's a list of businesses at Stadacona Centre:

Shine Café: Enjoy breakfast or lunch at this local favorite.
Subway: You don't have to go far to get your favorite sub!
Tartan Toque: Victoria's first true wing house offering 20 types of wings.
Cosmo's Pizza: Pizza, wings, subs and pasta. Pickup and delivery only. I'm a regular!
Stadacona Food Market: Small local grocery store.
Origin Bakery: Providing quality, fresh, gluten-free products.
Fernwood Village
A vibrant community just 1km from Hilltop Manor. A 4 minute drive or 10 minute walk. Here's what you'll find in Fernwood Village:

Stage Wine Bar: Fine dining and drinks.
Fernwood Inn: A community gathering place committed to providing locally sourced organic products, wild seafood, and Victoria's best micro brews.
Cornerstone Café: Coffee, paninis, soups, and salads made in-house, as well as muffins, desserts, and snacks.
Belfry Theatre: Live plays inside a 125 year old former Baptist church.
Grocery Stores

Safeway: 1950 Foul Bay Road, 1.6km away. This huge grocery store has everything you need.
Market on Yates: 903 Yates Street, 1.7km away. This trendy grocery store has a great selection of organic produce and gluten free products.
Fairway Market: 2187 Oak Bay Avenue, 1.8km away. Small grocery store in charming Oak Bay Village.
More Nearby Amenities
153 with J Flowers Convenience Store: This corner store is just one block away and has all your favorite snacks.
Craigdarroch Castle: This Victorian-era Scottish Baronial mansion is a designated National Historic Site of Canada.
The Art Gallery of Greater Victoria: Featuring a collection of over 15000 objets d'art from Asia, Europe and North America with primary emphasis on Canada and Japan.
Royal Jubilee Hospital: This state of the art hospital is just 1.3km away.
Stadacona Park: Just one block away, this dog friendly park has 5 tennis courts, picnic tables and a playground.
How To Get To Hilltop Manor

From Victoria Airport - 30 minute drive. Click here for directions.

From Swartz Bay Ferry Terminal - 33 minute drive. Click here for directions.
From Duke Point Ferry Terminal (Nanaimo) – 93 minute drive. Click here for directions.

From the Clipper Ferry Terminal - 7 minute drive. Click here for directions.
What other amenities are close to Hilltop Manor? Let us know!